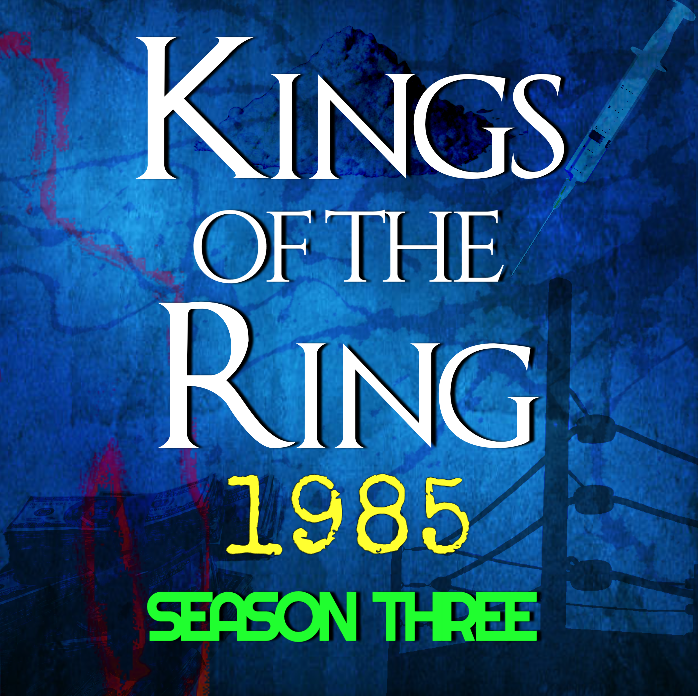 Welcome to Kings of the Ring. A fictional wrestling saga inspired by the real-life stories of the 1980's Pro-Wrestling Era, written and produced like an ensemble cast cable drama or soap opera.
And please welcome @RJ City to the cast!
https://www.youtube.com/RJCityLovesYou
https://www.prowrestlingtees.com/RJCity
The Novel Adaptations for KINGS OF THE RING:
Book (Season) One: The Rise of Cain (eps 1-11)
Book (Season) Two: Retaliation (eps 12-20)
are now available on Amazon!  300+ pages each with DELETED and EXPANDED scenes and much more!
Sign up with Patreon.com/KingsOTR to get EXTENDED EDITIONS of all Season 3 episodes and support the most unique podcast in Pro-Wrestling!
Previously on Kings of the Ring,
After a year chasing the fantasy of being a mainstream sports celebrity, "Diamond" Donny Gold finally understood he was only a puppet and the subject of Julian Cain's scorn and vengeance, and left the Empire Wrestling Federation and came back to the South, where longtime best friend Jesse James, accepted him back with open arms.
In his efforts to combat Julian while building up the hottest pound for pound territory in the country, Jesse has been looking to add fresh outside talent. Not only bringing Donny back, but traveling the country to find wrestlers in the most unusual of places.
Vanilla mid-carder David Givens was paired up with Bobby Rivers, a guy who's been out of the business for a year after getting beat up in a barfight in front of wrestling fans. They were sent to the flea market to buy bandanas for some kind of a rock'n'roll gimmick Jesse concocted.   Two guys very unsure this'll work, but too desperate at this stage to object.
Empire-Mania finished off 1984 as the biggest and most successful show in wrestling history, which brought more attention to the sport than ever before. Including unwanted attention in the form of a consumer reporter for ABC, who started putting together a major story, to take wrestling down.
And while the heads of the world wrestling alliance will always bicker and squabble, they are more unified than ever in dealing with THE common threat of threats in Julian Cain's EWF and his war against all of them, and how to stop him.
LIKE/SUBSCRIBE/FAVORITE "Kings of the Ring" and be sure to give us a 5-star rating on whichever Podcast App you listen to the show on.  Thanks!
"Kings of the Ring" is written and directed by @SteveTeTai.  Sound Design and editing by Mana Sports Media.  Voice characterizations by Steve Te Tai with special guest voice actors. For any questions or feedback email us at PartsUnknown@KingsOTR.com.