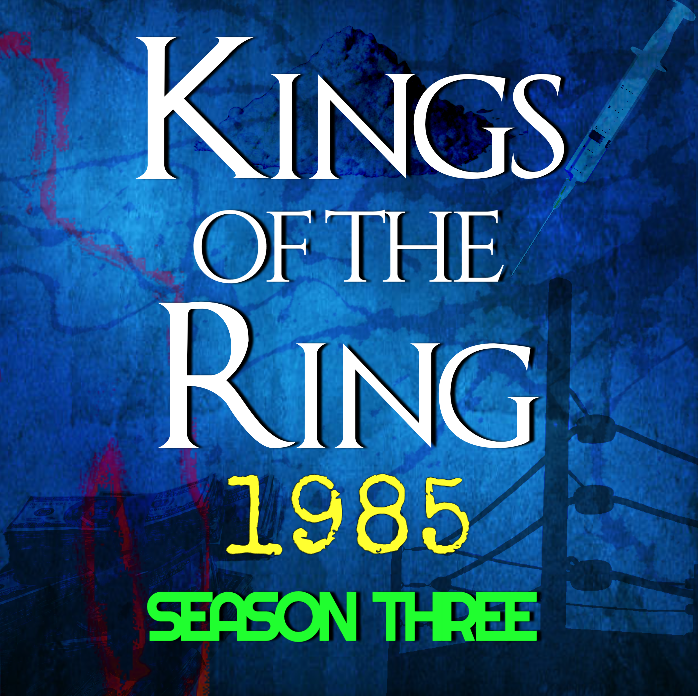 Welcome to Kings of the Ring. A fictional wrestling saga inspired by the real-life stories of the 1980's Pro-Wrestling Era, written and produced like an ensemble cast cable drama or soap opera.
And please welcome back @CyrustheShow to the Season 2 cast!
In This Corner with Cyrus Fees
https://www.facebook.com/CyrusFeesTV/
along with @RJ City:
https://www.youtube.com/RJCityLovesYou
https://www.prowrestlingtees.com/RJCity
The Novel Adaptations for KINGS OF THE RING:
Book (Season) One: The Rise of Cain (eps 1-11)
Book (Season) Two: Retaliation (eps 12-20)
are now available on Amazon!  300+ pages each with DELETED and EXPANDED scenes and much more!
Sign up with Patreon.com/KingsOTR to get EXTENDED EDITIONS of all Season 3 episodes and support the most unique podcast in Pro-Wrestling!
Previously on Kings of the Ring...
Julian Cain stole Thor Hansen, the mid-card heel sidekick to Hollywood Buddy Melrose, and turned him into the biggest wrestler in the business, and a movie star for the Empire!  Co-starring in Rambo, as Sylvester Stallone's sidekick as written in the original script from James Cameron.
Prince Abdullah stumbled on a bar in Oshkosh, Wisconsin where every bouncer looked like a bodybuilding wrestler, and Corporal Punishment left the Carolina's for the bright lights of the Empire Wrestling Federation to be Julian Cain's resident patriot.
After a record-breaking run in AMW that ended with Charlie Gotch, Goliath, and Buddy Melrose almost killed literally, Goliath fled the country back to Japan, while Jesse James and Daniel Hawkins traveled to Hollywood to make a deal with comic movie actor Jimmy Buck in a wrestling angle to get SCW publicity, and get Jimmy Buck back in the spotlight.
After failing as a fake Angel Brother, Raphael Angel was fired from All-South Wrestling by Burt Ironside, and the bomb was dropped, as ABC News Exposed, featured a full-blown expose on pro-wrestling being fake, that the entire country watched on TV.
Kings of the Ring is intended for mature audiences.  Today's episode would be rated MA for profanity, and vulgar anatomical descriptions. (gross!)
LIKE/SUBSCRIBE/FAVORITE "Kings of the Ring" and be sure to give us a 5-star rating on whichever Podcast App you listen to the show on.  Thanks!
"Kings of the Ring" is written and directed by @SteveTeTai.  Sound Design and editing by Mana Sports Media.  Voice characterizations by Steve Te Tai with special guest voice actors RJ City and Cyrus Fees. For any questions or feedback email us at PartsUnknown@KingsOTR.com.